Commerce Township Community Library provides a large number of services to our residents. Want free WiFi access? Need to print from your mobile device? How about a conference room for your next homeowners association meeting? We offer all this and more.
Commerce Township residents—Subscribe to our Get In Line Service and be among the first to know when new books by your favorite authors are released. You select from the list which authors you'd like holds on, and library staff Get In Line Logo will automatically place the hold(s) for you and you'll be notified when items are ready for pickup! Fill out this form, including your name, library card number and contact information and we will take care of the rest for you.
Activity Passes    
Your Commerce Township library card isn't just for checking materials out or accessing downloadable content! You can also get discounted admission to hundreds of museums and attractions across Michigan.
Michigan Activity Pass:
The Michigan Activity Pass (MAP) program is a statewide collaborative effort between Michigan's public libraries and cultural attractions. 
Library card holders can check out passes for free or discount admission, coupons good for discounts in gift shops, or other special offers, at participating area cultural attractions. Passes are on a first-come first-served basis and can't be reserved, renewed or requested through interlibrary loan. One Michigan Activity Pass may be checked out per person, per loan period. The loan period is seven days. 
Visit miactivitypass.org for a listing of all cultural attractions, pass information and restrictions. 
The meeting room is available for use by Commerce Township civic, community, cultural, educational, political, or religious organizations for non-commercial and non-profit purposes. All meetings will be open to the public and may be monitored by Library staff to ensure compliance with the library's Meeting Room Policy (updated Mar. 2018). If you would like to reserve the meeting room, please download and fill out this application.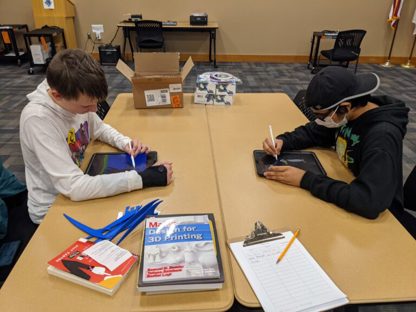 Come and see our library's new Makerspace, The Forge! Using grant funding provided by the Generator Z team, in partnership with the Ralph C. Wilson Foundation, we've created a Teen targeted space for extracurricular creativity. All ages are welcome to attend!
Come here to learn, tinker, and explore along with the help of our librarian staff! We have 3D Printers, 3D Pens, a 3D Scanner, Sewing Machines, Looms, Synthesizer boards, and more! Check out our awesome space and free services. 
The Forge is regularly open Wednesdays from 2-4:30 p.m.
| | | |
| --- | --- | --- |
| | | |
| 3D Pen | 3D Scanning | Audio Converting |
| | | |
| Lulzbot Taz Pro 3D Printer | Protcycler+ | Prusa Mini 3D Printer |
| | | |
| Sewing Machine | Small Loom | Synthesizer |
1. 3D Pens- Come draw using our 3D pens. Easy to use, but hard to master, these pens are like self directed 3D printers, allowing the user to write/draw shapes into 3D structures.
2. 3D Scanner- This Einscan H 3D scanner allows users to scan objects and people and render 3D models. These models can be turned into digital assets for things like animation and gaming, as well as being output as printable files with our 3D printers.
3. Audio Converter- This station allows for the digitization of music. Take your old records, cassettes, or CD's and turn them into MP3's using this all in one conversion station.
4. Lulzbot Taz Pro- Our Lulzbot 3D printer comes equipped with a dual extruder, allowing it to print using multiple colors of filament on the same job. This large printer can print in a 11x11x11 space, giving it a substantial boost in printing capacity over our smaller Prusa printers.
5. Protocylcer+ – This machine allows us to recycle used filament from our 3D printers and turn it into usable plastic. It contains a grinder, that allows us to take the old plastic and turn it into small pellets, as well as an extruder, that allows us to melt down the old pellets and turn them back into a fresh batch of filament.
6. Prusa Mini- Our 2 Prusa Mini 3D Printers are here for all our printing needs. With a 7x7x7 inch build volume, these printers are handy for all of our small to midsize printing needs.
7. Sewing Machine- We have 4 of these sewing machines available, giving you a solution to all your sewing needs. We provide basic thread, as well as some scrap materials to practice/experiment with, users must supply any additional materials.
8. Small Loom- We have 2 small looms for all of your weaving needs. Warp thread and additional materials are provided. 
9. Synthesizer- Come use our Arturia Microfreak synthesizer. With hundreds of premade sounds and a range of customization, the ability to experiment with this synthesizer leaves open a range of possibilities.
Want to know more about computers, e-readers, web applications or anything tech-related? The Book-A-Librarian service offers you a free, personalized appointment with librarians who can assist you. Patrons can reserve either a 30 to 60 minute session.
Public Computers
Our public computers have access to the Internet and the full Microsoft Office Suite. Anyone with a Library Network library card may sign in to a public computer for an hour session. Sessions may be extended when demand is not high. Users without a library card may ask for a guest pass for a 30 minute guest session. Guest sessions CAN NOT be extended.
Wireless Internet (Wi-Fi)
The Commerce Township Community Library offers free wireless access (compatible with 802.11 B/G/N devices). To connect, choose Wireless SSID Library WiFi. Once your computer/device is connected to the network, you will be taken to a splash screen welcoming you to the wireless network. Click on the green button labeled "Continue to the Internet." Once you do so, you will be free to roam the Internet.
Printing
Users of our public computers are able to print documents in the library in either Black and White ($0.10 per page) or Color ($0.25 per page). Patrons using a laptop or mobile device can upload print jobs via our mobile printing portal. 
Mobile Printing
Send a print job from anywhere, whether in the library from your notebook PC or Mac or at home when you need to print and you're out of ink or paper.
For most websites and document files (Microsoft Office, PDF, picture files, and more) access our web portal:
Click here to submit a job to print.
You can also send print jobs as an email attachment or forwarded email:
To print emails from webmail sites like Gmail, Yahoo, outlook.com (works with any e-mail provider):
Send Email message with attachment or forward your email to
Black and White : 
ctcl-blackandwhite@printspots.com
Color :
ctcl-color@printspots.com
You will be sent a confirmation message. Use your email address to retrieve your documents at the library. Email forwarding is ideal for online email portals such as Yahoo!, Hotmail or Google Mail. This method is also ideal for printing attachments you have received via email (saving you the step of saving the attachment to your computer/device).
Why?
Most online email services require that you log-in to access email. If you provide the URL (web address) of your message, the printing services will be blocked because your email login name and password are not known by the print system.
This method is ideal for sending print jobs from your Smartphone or tablet.
Copying/Scanning/Faxing
Our public copy machine can make copies in color or black and white and can also make double sided copies. The cost is $0.10 per printed side for black and white and $0.25 per printed side color. The Library Document Station can scan to an e-mail address or USB flash drive (bring your own or purchase from the library). The Library Document Station can also fax to any U.S. Phone number (we are unable to receive faxes for customers). The cost for this service is $0.25 per page. Please ask for staff assistance if you have any questions.
Detroit Zoo Discounted Tickets
Children younger than 2 admitted FREE!
Prices and operating schedule subject to change without notice. Offer not valid for special or evening events and cannot be combined with other promotions. Offer cannot be redeemed in person and must be redeemed online. Tickets are nonrefundable. Valid through Dec. 31, 2023.
To purchase your discounted tickets, go to tickets.detroitzoo.org.
Company/Organization: The Library Network
Web Address: https://tickets.detroitzoo.org/
Store Name: hemingway
313 Presents Discounted Tickets 
313 Presents is excited to offer cardholders "313 Presents Corporate Access" member discounted tickets to select shows at their venues.
You will also have access to Premium Seating locations at Little Caesars Arena, located in sections 108-110 and 121-123. In these exclusive clubs you have access to private restrooms and bartenders as well as the opportunity to see your favorite artists from incredible seats. For Premium Suites or handicap seating at the Fox Theatre, please call Kaitlin directly.
Any Questions? Feel Free to Call KAITLIN at 313.471.3278 or email Kaitlin.Gray@313Presents.com
Library patrons can purchase discounted tickets here at the best value available anywhere!
Broadway in Detroit Discounted Tickets
Broadway In Detroit is happy to offer Metro Detroit Library Members discounts to the best Broadway shows in Detroit through its Corporate Discount program.  
Broadway In Detroit discount offers are not valid on previously purchased tickets or in combination with any other offers. They are based on availability and may be discontinued at anytime for any reason. Tickets purchased online through Ticketmaster.com, and charge by phone are subject to Ticketmaster service fees. Please note that these discounts are NOT available at the Fisher Theatre box office.
Commerce Township Community Library provides equipment to preserve your history to a digital format as a public service. Our conversion station allows you to convert slides, photos, and VHS tapes into digital format. Make sure to bring a USB drive or you may purchase a 2GB flash drive from the library for $7.00 to store your digital files on to take with you. The station is available on a first-come, first-served basis.
Please ask at the Adult Reference Desk for materials and instructions to be checked out for the Epson or to use the Kodak Scanza.