Commerce Township Community Library offers multiple book clubs. The Library arranges for meeting space, sets the dates of the meetings, provides copies of the books and has a staff member on hand to lead the discussion. New members are welcome at any time!
Copies of the current titles being discussed by the groups will be available for checkout about one month before each meeting.
Monthly Morning Book Discussion
The Library holds a monthly book discussion for adults on the 3rd Tuesday of every month (some dates have changed due to holidays). Please call the library at 248-669-8108 ext. 103 for further information. 
Fall 2023 Schedule of Discussions:
September 19, 2023 - When Two Feathers Fell from the Sky by Margaret Verble
October 17, 2023 - The Many Daughters of Afong Moy by Jamie Ford
*November 14, 2023 - Christmas Bells by Jennifer Chiaverini 
Book discussions are held from 10:30 AM – 11:30 AM at the library.
Seasoned Readers Book Club
The Library holds a monthly book discussion for all book lovers over the age of 50 at the Richardson Senior Center. The Richardson Senior Center is located at 1485 Oakley Park Road, Commerce Township, MI.  The Seasoned Readers meet year-round on the last Wednesday of each month at 10:00 a.m. Please call the Richardson Senior Center at 248-926-0063 for further information.
Tween Book Club
Kids ages 9-12 are invited to read and discuss a different book each month, plus do activities and have snacks. Space is limited; registration is required. 
FALL 2023 SCHEDULE OF DISCUSSIONS:
Tuesday, October 10, 2023 - Small Spaces by Katherine Arden
Monday, November 13, 2023 - Orphan Island by Laurel Snyder 
Wednesday, December 13, 2023 - The Greenglass House by Kate Milford
Book Club Kits
Do you have your own book discussion group? Check out our collection of Book Club Kits! Book club kits are designed to help you hold your own book discussions. Each kit comes in a convenient canvas tote and includes multiple copies of the book and materials for facilitating the discussion.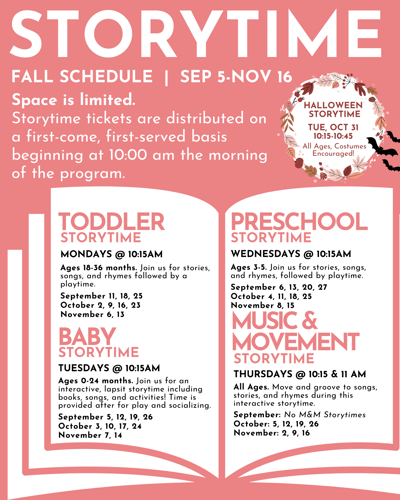 For the most up-to-date storytime schedule, visit our events calendar.
Storytime Guidelines:
Please turn your phone off and leave all adult conversations for when storytime is over.
Please arrive a few minutes early to visit the bathroom with your child prior to storytime.
Participate in fingerplays and rhymes, and follow along with the story. Your child learns by watching you, so sing along! Have fun!