Would you trust a chef to cook you a meal? Of course! Would you trust a nurse to heal a boo-boo? Certainly! So why not ask your Commerce Township Community Library employees which book you should read next?
Here is a list of books that your friendly library staff has been reading in 2023. Check out our lists below and click on any title that sounds interesting! You'll be taken to our catalog where you can read more or put the book on hold. Maybe you'll find someone with similar reading tastes, or someone who opens you up to a whole new genre!
Some titles may only be available on Hoopla or Libby, which can both be found here: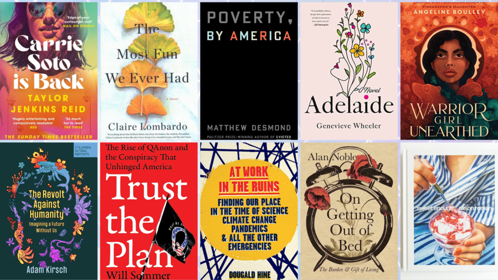 Some of the books Alyson and Bill have been reading this year!
Alyson, Library Director
Carrie Soto Is Back by Taylor Jenkins Reid
The Most Fun We Ever Had by Claire Lombardo
Poverty, by America by Matthew Desmond
Adelaide by Genevieve Wheeler
Sweet Enough by Alison Roman
Warrior Girl Unearthed by Angeline Boulley
All Adults Here by Emma Straub
Bill Wines, Head of Circulation
Revolt Against Humanity : Imagining a Future Without Us by Adam Kirsch
Trust the Plan : The Rise of QAnon and the Conspiracy That Unhinged America by Will Sommer
At Work in the Ruins: Finding Our Place in the Time of Science, Climate Change, Pandemics and All the Other Emergencies by Dougald Hine
On Getting Out of Bed by Alan Noble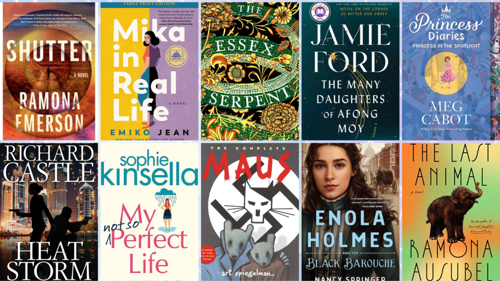 Alexis Shirk, Adult Services
The Tower Treasure by Franklin Dixon
Shutter by Ramona Emerson
Mika in Real Life by Emiko Jean
The Essex Serpent by Sarah Perry
The Many Daughters of Afong Moy by Jamie Ford
Princess in the Spotlight by Meg Cabot
The Sun Also Rises by Ernest Hemingway
Heat Storm by Richard Castle
My Not-So-Perfect Life by Sophie Kinsella
The Complete Maus by Art Spiegelman
Lore Olympus, volume 3 by Rachel Smythe
Enola Holmes and the Black Barouche by Nancy Springer
The Last Animal by Ramona Ausubel
Loveless by Alice Oseman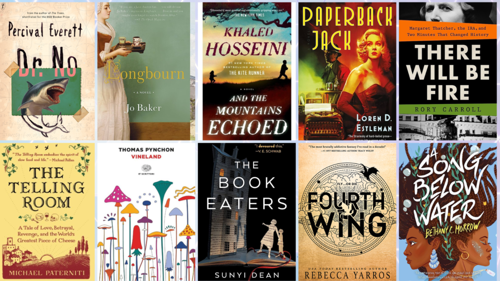 Steve McGladdery, Adult Services
Dr. No by Percival Everett
Longbourn by Jo Baker
The Telling Room: A Tale of Love, Betrayal, Revenge, and the World's Greatest Piece of Cheese by Michael Paterniti
Paperback Jack by Loren Estleman
And the Mountains Echoed by Khaled Hosseini
There Will Be Fire: Margaret Thatcher, the IRA, and Two Minutes That Changed History by Rory Carroll
Vineland by Thomas Pynchon
The Guest List by Lucy Foley
Brannon McCullough, Adult Services
The Book Eaters by Sunyi Dean
The Fourth Wing by Rebecca Yarros
A Song Below Water by Bethany C. Morrow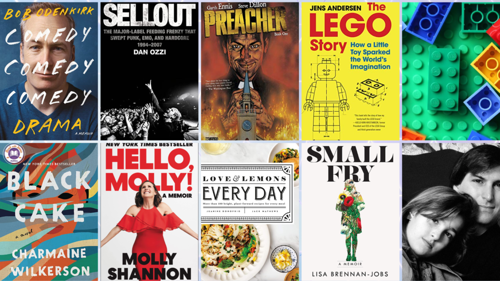 Jacob Szpytek, Adult Services
Comedy Comedy Comedy Drama by Bob Odenkirk
Sellout: The Major-Label Feeding Frenzy that Swept Punk, Emo, and Hardcore by Dan Ozzi
Preacher by Garth Ennis & Steve Dillon
The Lego Story by Jens Andersen
Angela Quick, Adult Services
Black Cake by Charmaine Wilkerson
Small Fry by Lisa Brennan–Jobs
Hello, Molly! A memoir by Molly Shannon
Love and Lemons Every Day: More than 100 Bright Plant- Forward Recipes for Every Meal by Jeanine Donofrio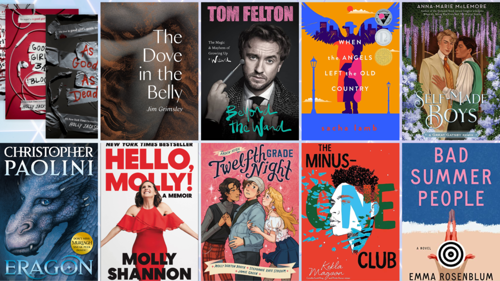 Anjelica Lyman, Teen Services
The Good Girl's Guide to Murder series by Holly Jackson
The Dove in the Belly by Jim Grimsley
Beyond the Wand: The Magic and Mayhem of Growing Up a Wizard by Tom Felton
When the Angels Left the Old Country by Sacha Lamb
Self-Made Boys by Anna Marie McLemore
Eragon by Christopher Paolini
Twelfth Grade Night by Molly Booth and Stephanie Kate Strohm
Minus One Club by Kekla Magoon
Bad Summer People by Emma Rosenblum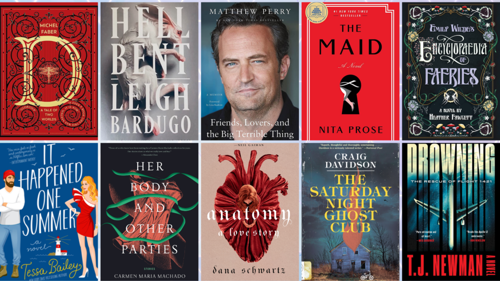 Ashley Moran, Youth Services
The Lost Village by Camilla Sten
D: A Tale of Two Worlds by Michel Faber
Hidden Pictures by Jason Rekulak
Hell Bent by Leigh Bardugo
Friends, Lovers, and the Big Terrible Thing by Matthew Perry
The Maid by Nita Prose
The Book Eaters by Sunyi Dean
The London Séance Society by Sarah Penner
Emily Wilde's Encyclopaedia of Faeries by Heather Fawcett
Spare by Prince Harry
Secluded Cabin Sleeps Six by Lisa Unger
Her Body and Other Parties: Stories by Carmen Maria Machado
The Year of Less: How I Stopped Shopping, Gave Away My Belongings, and Discovered Life Is Worth More Than Anything You Can Buy in a Store by Cait Flanders
Anatomy: A Love Story by Schwartz, Dana
The Saturday Night Ghost Club by Craig Davidson (Libby)
Drowning by T.J. Newman
It Happened One Summer by Tessa Bailey
Marissa Boisclair, Youth Services
Tomorrow and Tomorrow and Tomorrow by Gabrielle Zevin
Karen Grimes, Circulation
The Lost Girls of Willowbrook by Wiseman, Ellen Marie
All the Dark Places by Parlato, Terri
How to Sell a Haunted House by Grady Hendrix
Reckless Girls by Rachel Hawkins
A Flicker in the Dark by Stacy Willingham
The Family Game by Catherine Steadman
The Island by Natasha Preston
Anxious People by Fredrik Backman
The Lake House by Sarah Beth Durst
The Michigan Murders by Edward Keyes (Libby)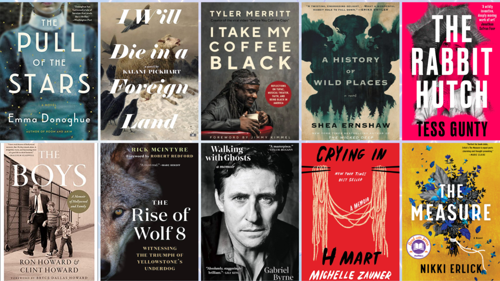 Liz Wagner, Circulation
The Pull of the Stars by Emma Donoghue
I Will Die in a Foreign Land by Kalani Pickhart (Hoopla)
I Take My Coffee Black by Tyler Merritt (Libby)
Remarkably Bright Creatures by Shelby Van Pelt
History of Wild Places by Shea Ernshaw
All Creatures Great and Small by James Herriot
Rabbit Hutch by Tess Gunty
Ink Black Heart by Robert Galbraith
Animal Farm by George Orwell
Finding Chika: A Little Girl, an Earthquake, and the Making of a Family by Mitch Albom
The Boys: a Memoir of Hollywood and Family by Ron and Clint Howard
Rise of Wolf 8: Witnessing the Triumph by Yellowstone's Underdog by Rick McIntyre
Slow Horses by Mick Herron
Walking With Ghosts by Gabriel Byrne
Crying in H-Mart by Michelle Zauner
The Measure by Nikki Erlick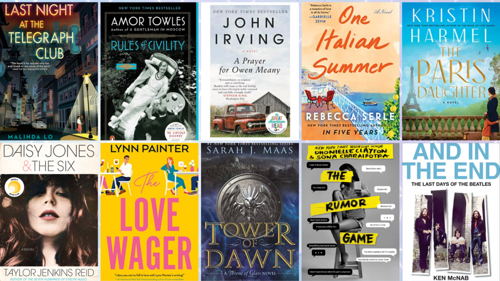 Karen Spring, Circulation
Last Night at the Telegraph Club by Malinda Lo
Spare by Prince Harry, The Duke of Sussex
Rules of Civility by Amor Towles
Roberta, Circulation
Remarkably Bright Creatures by Shelby Van Pelt
A Prayer for Owen Meany by John Irving
Tomorrow and Tomorrow and Tomorrow by Gabrielle Zevin
One Italian Summer by Rebecca Serle
The Paris Daughter by Kristin Harmel
Robyn Jenkins, Page
Daisy Jones and the Six by Taylor Jenkins Reid
The Love Wager by Lynn Painter (Libby)
Tower of Dawn by Sarah J. Maas
Romantic Comedy by Curtis Sittenfeld
Lock and Key by Sarah Dessen
Rainah Petersen, Page
The Rumor Game by Dhonielle Clayton and Sona Charaipotra
I Know Why the Caged Bird Sings by Maya Angelou
And in the End: The Last Days of the Beatles by Ken McNab